ABILITY
Issue #4
Close
The New Zealand Disability Karate Association Newsletter
Spring 2019
Tēnā koutou
Welcome to the Spring issue of the New Zealand Disability Karate Association newsletter.
Oh no! This is the last newsletter of 2019. Don't worry there will be another issue for Summer 2020.
What a year we have had lots of new grades and lots of new friends to do karate with.
And the year is not over there are still 12 classes until Christmas including 2 special classes.
Who has graded?
There have been two gradings since our last newsletter.
We have 2 new yellow belts (9th kyu)
And 1 new orange belt (8th kyu)
There are now
3 white belts belts (10th kyu)
2 yellow belts (9th kyu)
6 orange belts (8th kyu)
We are expecting our first green belt (7th kyu) in the New Year
Little Blue's karate tip
This karate tip is thanks to Sensei Antonie de Bruin of GKR Karate.
It is important that we keep our hips level when we do a strike or a block. As we turn our hips to block or strike all the power should go in the same direction.
Imagine there is a fishbowl inside you. Your fish is happy, because you are powerful.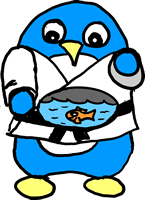 If you lean forward, sideways or backwards the water in the fishbowl will slosh about. Your fish is unhappy, because all the power has run away.
Remember the words of wisdom from Sensei Josh Saunders, "Be humble, train hard and keep your fish happy."
What is coming up
Our plans for the next quarter
We are on track to see our first 7th kyu student, which is green belt, next year.
We need to grow the adult class. So Sensei will be running special self-defence classes for parents.
We will have the grading requirements for the rank of 6th kyu (blue belt) finalised.
Marketing and fund raising will be big focus for the next quarter. We will be targeting businesses around Wellington.
We will be doing another leaflet drop around the area. And handing out leaflets outside local shops.
Remember you can invite your friends along to class.
Special Halloween Class
On the 30th October we will have our Halloween class. Remember to dress up in your best Halloween costume.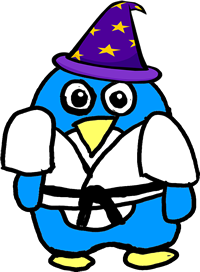 There will be lollies.
Can you scare Sensei?
Special Christmas Class
On the 18th December we will have our Christmas class. Lots of games and fun.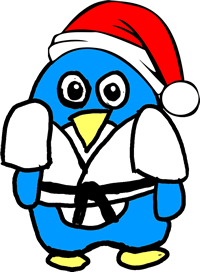 There will be awards, lollies and Christmas crackers.
This will be our last class of the year.
Look out for the Summer issue and feel free to share this newsletter with your friends.
A big thank you to everyone who has supported our club during 2019. We could not do this without you.
Membership is free and open to anyone who wishes to take part in the martial arts training offered by the club. All the details are on our website. www.karatedojo.nz
THE END