ABILITY
Issue #8
Close
The New Zealand Disability Karate Association Newsletter
Spring 2020
Tēnā koutou
Welcome to the Spring issue of the New Zealand Disability Karate Association newsletter.
Oh no! This is the last newsletter of 2020. Don't worry there will be another issue for Summer 2021.
What a year we have had, lots of new grades and lots of new friends to do karate with.
2020 has been a very strange year for the whole world and even our club has made changes. We have a plan to protect our dojo family if the COVID-19 levels go up. And we have a new type of class our monthly Zoom dojo.
Since lockdown 10 members of our dojo family not been able to train with us.
What is great is that, recently, 2 students returned to training and it is fantastic to see them back in the dojo.
Who has graded?
There has been one grading since our last newsletter.
We have 2 new yellow belts (9th kyu)
There are 19 active Dashi (students). Their grades are
7 white belts (10th kyu)
10 yellow belts (9th kyu)
2 orange belts (8th kyu)
There will be 2 new yellow belts in the dojo in November.
We are expecting our first green belt (7th kyu) early in the New Year.
Little Blue's karate tip
This season's karate tip is from Little Blue and Kiwi Bro's new friend Neko. Neko is Japanese for cat.
Here is Neko with a tip on blocking.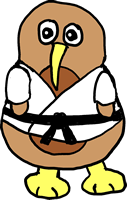 When you do an Outside hooking block (Soto uke) bring your arm up to the side with your arm bent at a right angle. You should be able to see your fist out of the corner of your eye.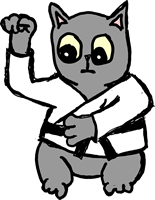 Bring your arm down so that it is out in front of you, but keep it bent. This is like Inside hooking block (Uchi uke). Now twist your hips so your arm is across your body.
Remember to keep looking forwards at all times and don't fold your arm into your body.
What is coming up
Our plans for the next quarter
We did not get any green belts this year because of lockdown. But we will see our first 7th kyu student, which is green belt, early next year.
Both classes (general and focused) are about the same size and growing. We will be contacting students who have not trained in a while to invite them back to the dojo.
We are working on our 2020 annual report for Charities Services which is due in April 2021.
We are still working on our new information pack for schools and local businesses.
Now we are out of lockdown, we can focus on marketing and fund raising. We will be targeting businesses around Wellington.
We will be sending out invites to the club's AGM, which will be in early Febuary 2021 after the Christmas holiday.
We delivered over 600 leafets this quarter. We will be doing another leaflet drop after Christmas. And handing out leaflets outside local shops.
Remember you can invite your friends along to class.
Special Christmas Class
On Wednesday 16th December we will have our Christmas class. Lots of games and fun.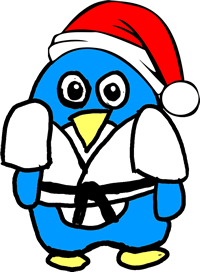 There will be awards, lollies and Christmas crackers.
This will be our last class of the year.
Look out for the Summer issue and feel free to share this newsletter with your friends.
A big thank you to everyone who has supported our club during 2020. We could not do this without you.
Membership is free and open to anyone who wishes to take part in the martial arts training offered by the club. All the details are on our website. www.karatedojo.nz
BE KIND