ABILITY
Issue #12
Close
The New Zealand Disability Karate Association Newsletter
Spring 2021
Tēnā koutou
Welcome to the Spring issue of the New Zealand Disability Karate Association newsletter.
Oh no! This is the last newsletter of 2021. Don't worry there will be another issue for Summer 2022.
What a year we have had, lots of new grades and lots of new friends to do karate with. And we received a grant that will cover our costs until the end of 2022!
And the year is not over there are still 10 classes until Christmas including 2 special classes.
Fantastic!
Surviving the Zombie Apocalypse
On the 27th October we will have our Halloween class. Remember to dress up in your best Halloween costume.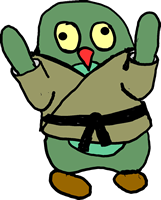 Can you survive the Zombie Apocalypse? Is your karate strong enough to hold back the hordes of prowling zombies? Can you defeat a zombie with a single strike?
Come to class and find out if you are a survivor or a snack.
See if you can spot the T-Rex. Find out if dinosaurs can do kata!
There will be gooey lollies and ghostly games.
Who has graded?
There has been two grading since our last newsletter. We have two new yellow belts and two new green belts.
We have one new member, who is likely to grade to yellow belt in November. There are at least 7 more students ready to grade before the end of the year.
In our club there are now
6 white belts (10th kyu)
4 yellow belts (9th kyu)
7 orange belts (8th kyu)
2 green belts (7th kyu)
What is coming up
Our plans for the next year
Run special self-defence classes for the local community.
Complete the update of the training syllabus for the new grades and weapons training.
Complete work on the new information pack for schools and local businesses.
Finish the incident response plan for the club.
We are targeting businesses around Wellington for funding support.
We are working on our 2021 annual report for Charities Services, which is due in April 2022.
Complete the draft of fund raiser children's book.
Agree the changes for tournament to support people living with disability.
Remember you can invite your friends along to class.
About the children's book
This is the story of a young fish called, Rain Bro, who joins the local karate club. The book will cover their journey from white to black belt. It will include hints and tips that students can use in their own karate journeys.
Hi! My name is Rain Bro. I am into the environment and karate.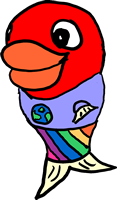 You can follow me on my karate adventures as I move closer and closer to getting my black belt.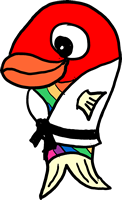 The initial draft will be out in the New Year for all club members to review.
Special Christmas Class
On Wednesday 15th December we will have our Christmas class. There will be lots of games and fun.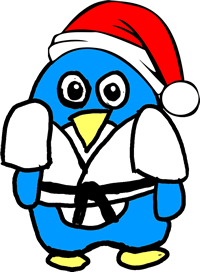 There will be rewards, lollies and Christmas crackers.
This will be our last class of the year.
Look out for the Summer issue and feel free to share this newsletter with your friends.
Membership is free and open to anyone who wishes to take part in the martial arts training offered by the club. All the details are on our website. www.karatedojo.nz
THE END