ABILITY
Issue #1
Close
The New Zealand Disability Karate Association Newsletter
Summer 2019
Welcome!
This is the very first newsletter of the New Zealand Disability Karate Association.
At the start of Spring, Summer, Autumn and Winter we will update you on what has happened to our club.
This first issue has taken slightly longer to produce, because we wanted to make sure everyone could read it.
Each issue will be a mix of information about the club and useful hints on how to improve your karate.
Say Hi to Little Blue
Hi my name is 'Pango Whitiki Korora', which means Black Belt Little Penguin in te Reo Maori. I am here to help you with your karate.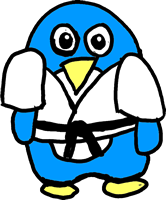 What's been happening
Here is some information about the club since we started
The first class was in April 2018.
We have 10 students some are living with disabilities.
On average 5 students attend each week. Holidays are the main reason for being away.
Most of the students have achieved the rank of 9th kyu, which is yellow belt.
All our new students are well on the way to achieving the rank of 9th kyu.
What is coming up
Our plans for the next couple of months
We would like to see our first 8th kyu student, which is orange belt.
We have opened a second class and we are working on growing that class.
Our first annual report is due to be submitted to Charities Services by April.
Generally we would like to see the club grow so we will be focusing on marketing.
Little Blue's karate tip
When you punch your wrist should be straight with your elbow pointing down. This will stop you from hurting your wrist and will make your punch much stronger.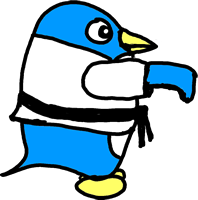 Look out for the Autumn issue and feel free to share this newsletter with your friends.
Membership is free and open to anyone who wishes to participate in the martial arts training offered by the club. All the details can be found on the website.
In the next issue we will have a summary of the club's annual report.
THE END