ABILITY
Issue #5
Close
The New Zealand Disability Karate Association Newsletter
Summer 2020
Tēnā koutou
Welcome to the Summer issue of the New Zealand Disability Karate Association newsletter.
This is the first newsletter of 2020 and a new decade.
This year we will introduce partner work into our classes, which is the next level of training.
All classes are now on a Wednesday and the first class of each month is an oppertunity to grade.
Who has graded?
There has been one grading since our last newsletter. We have 4 new yellow belts (9th kyu).
In our club there are now
6 white belts (10th kyu)
6 yellow belts (9th kyu)
6 orange belts (8th kyu)
We are expecting our first green belt (7th kyu) before the Autumn NewsLetter.
Little Blue's karate tip
Kia ora everyone! I would like you to meet my best friend, Kiwi Bro. He is awesome at karate.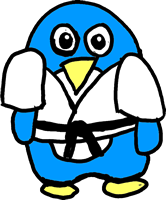 Kia ora, I'm Kiwi Bro. In te Reo Māori my name is Tokoweka and I am from the South Island. Little Blue and I are going to show you some very cool stuff called, "partner work".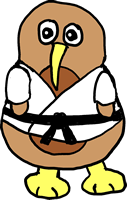 Partner work - Step 1
To start they face each other with their right leg back.
(1) Kiwi Bro throws a head level strike at me. (2) I then recieve the strike with a head level block. (3) I then counterstrike with a mid-level strike with my reverse hand.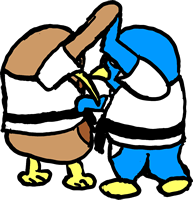 They take it slow so that they don't hurt each other.
Partner work - Step 2
Now it is Little Blue's turn to strike. They still have their right leg back.
(1) I throw a head level strike at Kiwi Bro. (2) He recieves the strike with a head level block. (3) He then counterstrikes with a mid-level strike with his reverse hand.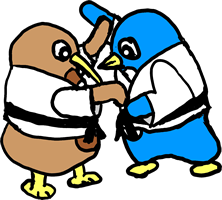 Remember they are being careful not to hurt each other. They can get faster as they become more skilled.
What is coming up
Our plans for the next quarter
We are on track to see our first 7th kyu student, which is green belt, this quarter.
We need to grow the development class. So Sensei will be running special self-defence classes for parents.
We have finalised the grading requirements for the rank of 6th kyu (blue belt).
We will be submitting our annual report to Charities Services this quarter.
We are creating a new information pack for schools and local businesses. This was a great idea from our AGM.
Marketing and fund raising will be a big focus for this quarter. We are targeting businesses around Wellington.
We will be doing another leaflet drop around the area. And handing out leaflets outside local shops.
Remember you can invite your friends along to class.
Special Beach Class
On the first or second Saturday of February we will be having a beach class. There is the chance that you might get wet!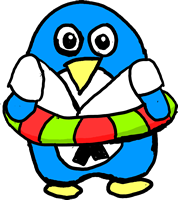 Remember to wear your togs under your Gi and to put on sunblock.
Look out for the Autumn issue and feel free to share this newsletter with your friends.
Membership is free and open to anyone who wishes to take part in the martial arts training offered by the club. All the details are on our website. www.karatedojo.nz
THE END